The Kossuth House in the heart of Washington, DC
The Kossuth House is located at the intersection of Massachusetts Avenue and 20th Street in Northwest Washington, D.C. It is a two-story, gray, stone building constructed in 1934 in contemporaneously fashionable Streamlined Moderne style. It was designed by one of the first female architects licensed in DC, Gertrude Sawyer. Prior to becoming the Kossuth House, it was owned by the Turney family – the first floor hosted the offices of the Turney & Turney law consulting firm, while the second floor was the residence of the Turney family. It was purchased by the Hungarian Reformed Federation of America (HRFA) in 1985 and served as its headquarters until 2011 when HRFA merged into GBU, another fraternal organization, and the building was transferred to the newly established Kosuth Foundation. In 2019 the Hungarian Government purchased the building and signed a long-term lease with the Foundation for its operation.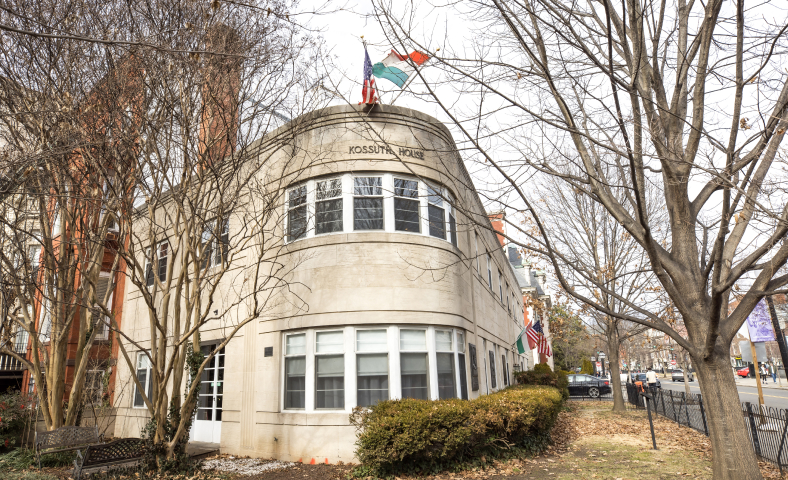 Home of the Kossuth Foundation and other Hungarian-American organizations; a meeting place for Hungarians and friends of Hungary
The building was named after the great Hungarian freedom fighter, Lajos Kossuth who became famous in America after his tour of the U.S. in 1851-52. It was dedicated to him as a "genuine desire to pay reverence to the name of Kossuth and to keep the spirit of 1848 alive in America." What Kossuth fought for was political and cultural independence, freedom, and democracy – the exact reasons the "45ers" and the "56ers" – the majority of the Hungarian immigrants – left the country for the New World. It is by no accident then why they cherished these values and the name which was most closely attached to them. Naming the building after Kossuth was a part of their lives, the reinforcement of their decisions, the justification of their past. Kossuth, however, was admired as well by the American public. One survey indicated seven streets, four avenues, two roads, one place, one park, five towns, one county, six statues, four plaques, and two buildings named after him, or dedicated to his memory, across North America.