Hungarian Heritage Festival, April 29, 2023
Event date: April 29, 2023
The Kossuth Foundaton's 2nd Annual Hungarian Heritage Festival took place on Saturday, April 29th, from noon to 7:00 pm in McLean, VA.
Check out the photos from the event on our Facebook page or read this great blog post by Kat Royer , the Paprikás(h) Girl"!
Brought to you by Kossuth Foundation.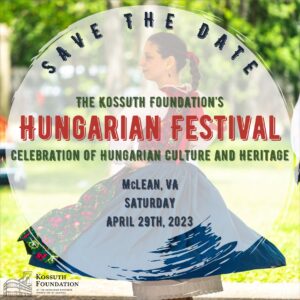 back
© 2023 Kossuth Foundation. All rights reserved.